QUASAR offers 30 years of expertise to help you carry out your projects and guide you through the process. To this end, we offer you a range of services starting from the deployment phase and up to the operational phase to provide you with a product customization tailored to your needs.
Project launch
Definition of the schedule, delivery of the project launch report
Prototyping
Delivery of a Prototyping report
Integration testing
Our test cell performs simulations to eliminate possible development bugs
Trainings
We train your teams to use the product on your French or international sites
Help getting started
We assist your teams until they are autonomous and independent with their tasks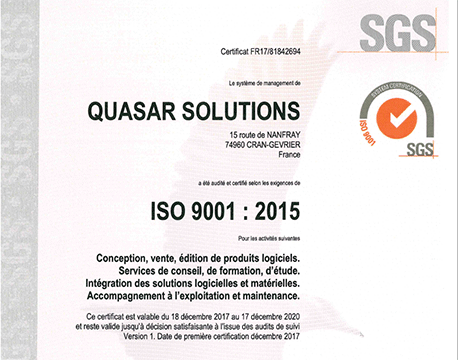 We attach great importance to the quality of our services and the satisfaction given to our customers. It is reflected in all our internal processes and applies to all our teams.
Product development testing
All our features are tested by our test team before delivery of developments to our customers. The risk of bugs or malfunctions is reduced to a minimum. It also means fewer back-and-forth movements and a significant time gain.
Agile methodology
The team QUASAR operates according to the agile methods principles. The self-organization of teams allows much more responsiveness to meet customers' needs, increases the fluidity of deliveries, and makes it possible to manage more effectively risks and changes during the delivery.
Roadmap for evolutions
QUASAR evolves daily through customer developments and technological innovations. The product owner keeps a roadmap up to date and meets regularly with their teams to give a clear course for all future developments.
ISO 9001-2015 Certification
QUASAR is ISO 9001-2015 certified. All internal processes comply with the standard's requirements. To ensure regular follow-up of service quality and to strive for continuous improvement, each department communicates monthly its performance indicators and its areas of improvement to our quality referent. The latter regularly monitors the correct application of the standard's key principles and ensures optimal operation of the company's quality processes.